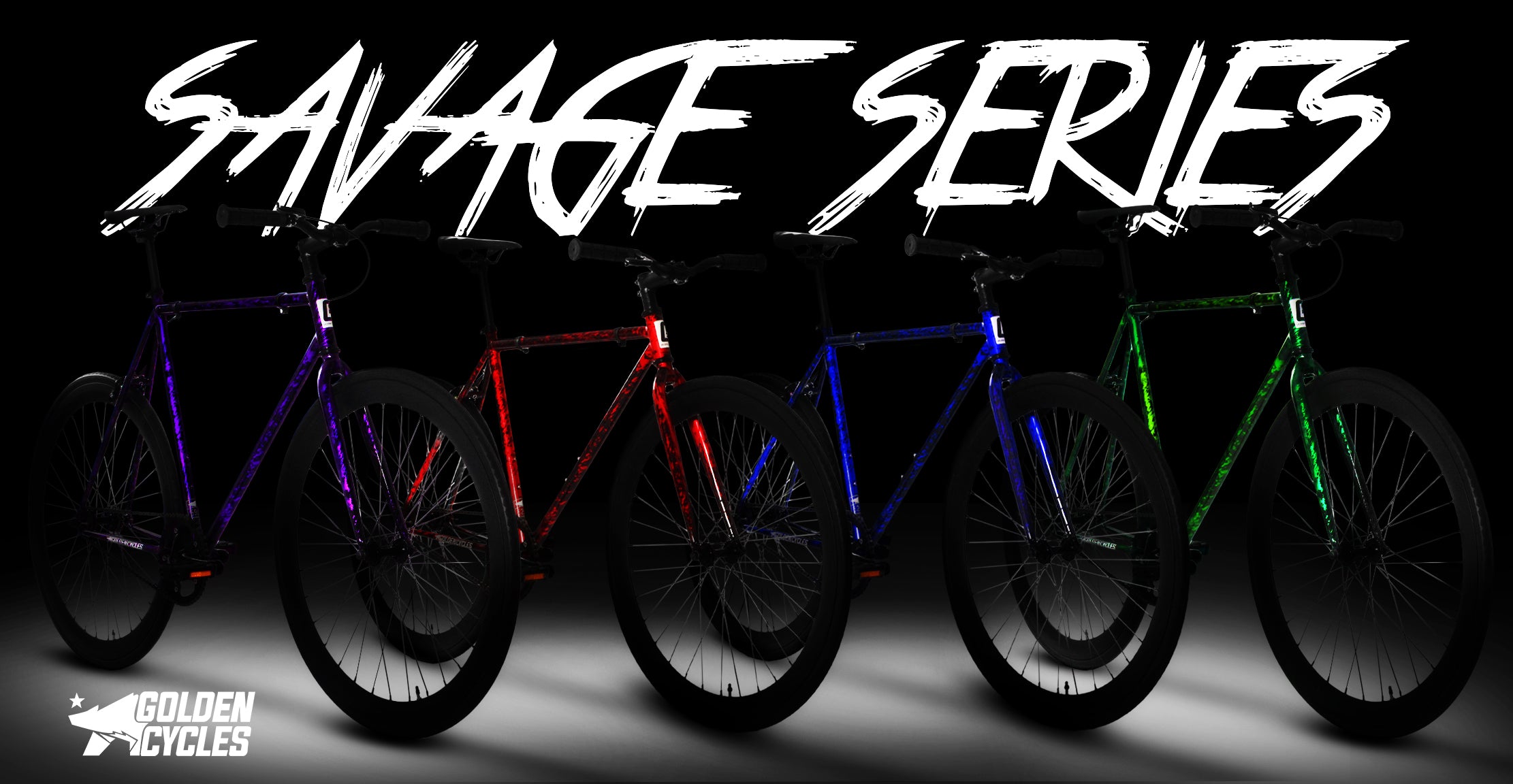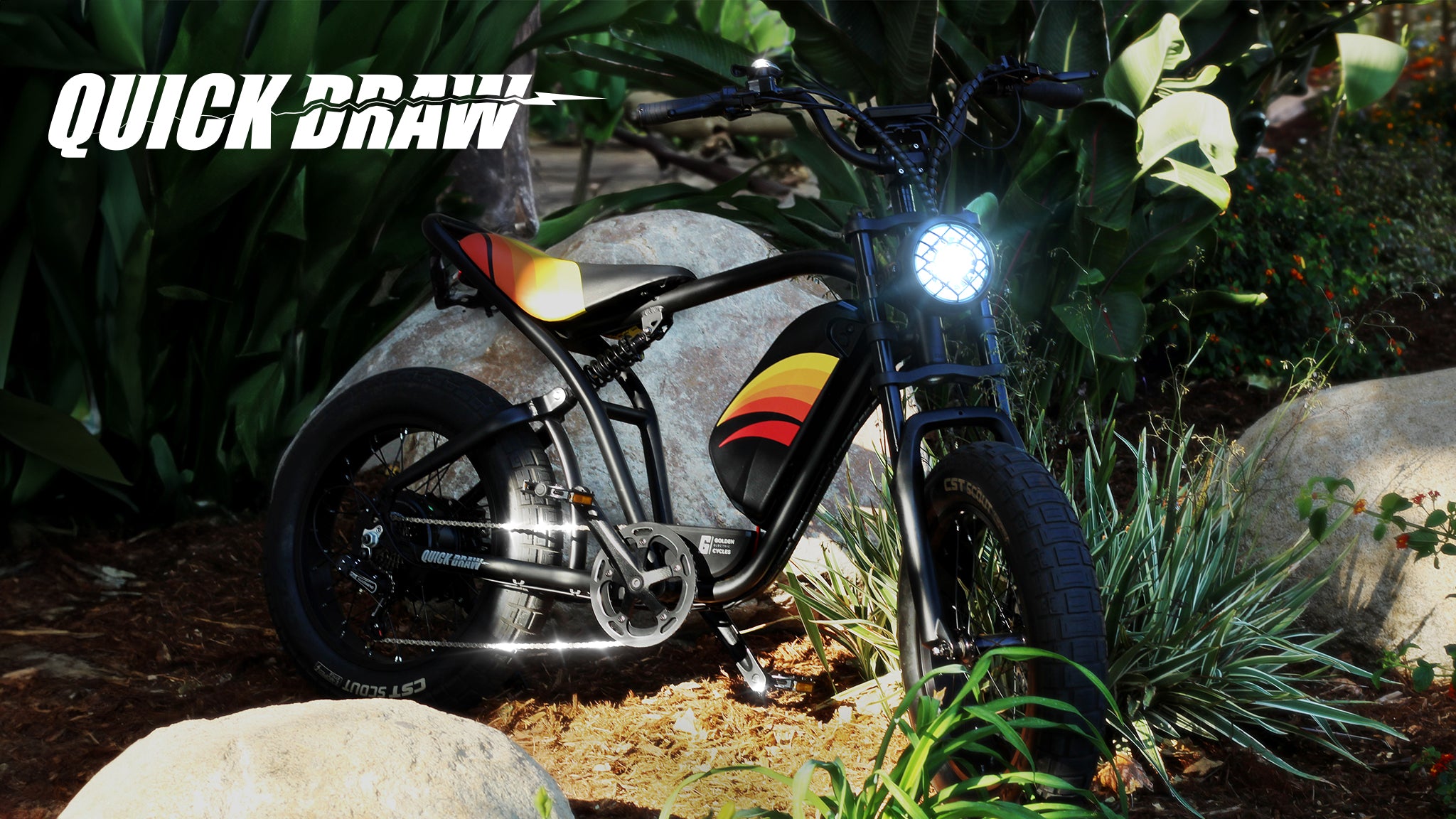 The All-New Accelera E-bike from Golden Cycles is finally here.  Equipped with a powerful 500W motor and a 48V battery is sure to have enough power and range to get where you want to go.  Whether it's commuting bustling streets on your way to work  or strolling on your favorite boardwalk these bikes are a sure great to ride! 

Golden Cycles has created the perfect Single Speed Road Bike. Our builds come equipped with a reliable set of built components to withstand years of daily use, a flip-flop hub that allows you to go from fixed gear to freewheel and back again with riser bars to tackle the city streets and ride comfortably as you explore your surrounding nature.   

The ALL NEW Uptown Alloy Track Series is designed with a sleek, eye-catching  6061 double-butted frame. The Uptown can tear up the track or tear through the streets. Its equipped with a flip flop hub that allows you to go from fixed gear to freewheel and back again. The riser handlebar delivers stellar handling. Have you ridden today? 

The Classic Beach Cruiser is inspired by the 1970s cruiser look with a modern twist. Designed with a classic low-profile frame and equipped with 26 tire wheels it will guarantee a good time. Our components will give you the best riding experience possible with a custom wide saddle, bow-tie flat foot pedals, wide cruiser bars, and an easy spin gear ratio.
Collection tabs
Collection tabs description
QuickDraw - Matte Black
Great bike. Came in great condition no damage and scratches. Got it built by a professional and he was impressed also. Would recommend it to my friends to buy one.
Velo7 - Red
Not only I was happy with my purchase but outstanding customer service as well. Will not hesitate to order from this company again.
Oilslick 52cm
I want to hate this bike, I want to stop riding it and I want to talk myself into spending more money on a better bike for commuting, but I can't. This bike is simple, fun, relatively light weight and so damned enjoyable.
Vader 63cm
The Bike was very easy to assemble and light weight and a great buy for the money. I'm 6'7 and very happy with this bike for a guy my height.
Grizz MTB - Orange
The quality of this bike is outstanding, it's a good and affordable price, and the convenience of being able to have it delivered and assembled at home is an awesome feature other companies don't have available. Also being able to support a company based in Southern California is a huge plus since that is my home state. Keep doing what you guys are doing.
Fixed Gear
Great quality, easy to assemble, and very lightweight. Just a good, simple fixie.
Fixed Gear Fixie
After riding several fixed-gear bikes ranging from fairly cheap to fairly expensive, Golden Cycles is a solid entry-level bike, particularly for its low price! Assembly is easy and the ride is smooth. In addition, parts can be easily interchangeable and upgraded if a rider desired.